Е-mail: evgeniy@scantruck.net
Skype: escantruck
Web: www.scantruck.nett
Hello!
Welcome to SCAN-TRUCK. We are a professional manufacturer and supplier of computer diagnostics scan tools for European, Asian, American trucks, commercial vehicles, as well as a variety of electronic components for automotive vehicles. Best price and discount for everybody!
STAR DIAGNOSIS SD CONNECT 4
DESCRIPTION
Star Diagnosis SD Connect 4 performs diagnostic of all vehicles Daimler Benz — passenger Mercedes Benz, cargo Mercedes Benz, bus Setra, Cobus, Mitsubishi FUSO, and a new brand of Indian trucks BHARAT BENZ. Star Diagnosis SD connect 4 provides absolutely full support for automobiles and trucks of all years of manufacture with the onboard 24 V and 12 volts.
In addition, since July 2011 SD connect 4 is the only diagnostic adapter to diagnose all vehicles MB.
Embedded software SDnetAssist- allows you conveniently and quickly to configure the SD connect 4 to your aims and objectives. If you have multiple scanners, Star Diagnosis SD connect 4, gives you the possibility to connect them into a unified network and manage the particular scanner Star Diagnosis SD Connect 4, with the help of the program SDnetControl.
Star Diagnosis CANtool — is the latest diagnostic system via CAN bus, on Mercedes Benz vehicles, with which works the new Auto scanner Star Diagnosis SD connect 4. This system will allow you to physically view all settings through CAN bus on these cars (169/245, 164 / 251, 171, 211 / 219.171, 203/209, 220/215, 230, 221/216, 240).
The CANtool together with SD connect 4 can operate in two modes:
Diagnostic via CAN bus integrated with XentryDAS;
Diagnosis through CAN program SD scan (expert mode);
Supported features — Star Diagnosis SD:
Forcing activation CAN bus;
Monitoring CAN bus;
Selecting and configuring signals CAN;
Management element of the CAN bus;
Diagnostics of all electronic components in the CAN bus;
Integrated system diagnosis of the power supply system of the vehicle, search for the causes of discharging the battery.
PACKAGE LIST
Autoscanner Star Diagnosis SD Connect 4:
Set of diagnostic cables: 4-pin, 14-pin, 16-pin (OBDII), 38-pin
LAN cable
Software
Price for dealers: 650 euro
MERCEDES STAR DIAGNOSIS (COMPACT 3)
DESCRIPTION
Star Diagnosis is the professional diagnostic equipment for Mercedes Benz cars manufactured after year 2000. The device operates based on the Windows XP system, it includes Workshops Information System (WIS system), the movement management system (STARUTILITIES) and the automatically diagnose system (DAS-Diagnosis Assistance System).
Testable system:
Engine
Auto-speed
Air conditional system
SRS
ABS
ASR
MPL
GM
Original anti-theft DASX system
Keyless entering system
OBD-II system
Price for dealers: 500 euro
MAN CATS T200
DESCRIPTION
Applicable to all types of commercial vehicles MAN, released after 2001. MAN CATS T200, as well as many modern Auto-Scanners works through a wireless connection, which simplifies the self-test process. Works together with the program man cats.
MAN CATS T200 features:
Control unit identification
Reading, deletion errors
Testing the actual mechanism
Testing the actuators
Monitoring (visualizing and interpreting sensor signals)
Guided Fault Finding
Condition monitoring and service functions.
Programming and replacing control units
Supported systems:
Electronic braking system (EBS)
The electronic engine control (EDC)
Air suspension control system (ESAC)
Retarder
Gearbox
Air-conditioning system
Central computer
Door module
Airbag control unit
and much more!
PACKAGE LIST
Packaging arrangement
Diagnostic adapter MAN CATS T200
Cable OBD
Cable  12-pin
Cable USB
Wi-Fi unit
Diagnostic software MAN CATS 12.01 (developer mode)
Price for dealers: 1800 euro
DAF VCI-560 MUX
DESCRIPTION
With the help of scan tool DAF VCI 560 MUX you can perform diagnostics, identify errors and program the following systems:
With this kit you can diagnose, troubleshoot and program:
Safety system.
Door control system.
Break system.
Suspension system.
Cabine climate system.
Communication system.
Transmission system.
Engine system.
Power supply and ground.
Retarder system.
Auxialiary system.
HDOBD.
Tachograph.
Security system.
Steering control system.
Vehicle control system.
and many others!
Price for dealers: 1800 euro
SCANIA VCI 2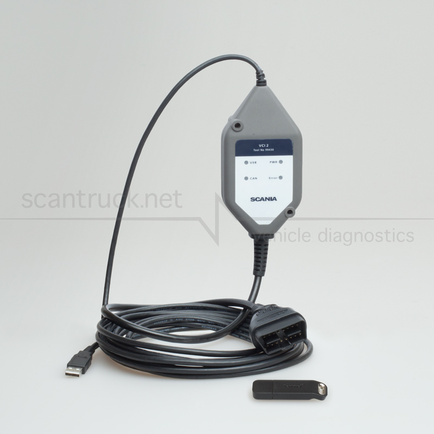 DESCRIPTION
SCANIA VCI2:
Using complex diagnostic SCANIA VCI 2 you are able to perform all of the operations the official Scania dealer is able to perform – detecting and erasing errors, change parameters of the systems, perform calibrations, the possibility to make configuration changes affecting the operation of electrical systems, and also to update the control units program.
The list of supported systems for SCANIA VCI 2:
ATA, WTA, CTS and AUS — Auxiliary heater system, Clock timer system, Radio.
APS – Air processing system
BWS – Body work system
BCS – Bus chassis system
EBS – Brake management system
EEC — emission control system
EBS — Brake Control System
EMS – Engine management system
COO – Coordinator
ICL – Instrument cluster
TCO – Tachograph system
OPC and RET – Gearbox control system
LAS and BBS — Closing system and alarm
RTI — Information on road
SMS — Suspension Control System
LDW - Lane departure warning system (System warning of coming off the road)
TPM — Tyre pressure monitoring system
Supported languages ​​SCANIA VCI 2: German, English, Spanish, Japanese, Dutch, French, Polish, Portuguese, Norwegian, Swedish, Turkish, Finnish, Italian, Chinese, Russian, Czech.
Price for dealers: 500 euro
SCANIA VCI 1
DESCRIPTION
Complex diagnostic SCANIA VCI 1 is used for services of trucks and buses SCANIA 4 and 3 series as well as marine engines SCANIA. SCANIA VCI 1 adapter is designed to work with the software SDP2 (Scania Diagnos) and Scania SP2 (Scania Programmer).
With the help of complex diagnostic SCANIA VCI 1 You can do all the operations the authorized dealer SCANIA is able to do.
It works together with the program for diagnostic Scania SD and Scania SP
Scanner vci 1 works through a COM port.
PACKAGE LIST:
Diagnostic adapter VCI1
SP2 and SD2
Price for dealers: 900 euro
SCANIA VCI 3
DESCRIPTION
Scania vci 3 is the latest diagnostic system adapter for Scania trucks which replaced the previous generation adapter Scania vci 2. The new adapter holds the Wi-Fi functionality for easy operation.
PACKAGE LIST
Diagnostic adapter Scania vci 3
USB key for the Software SDP 3
Price for dealers: 850 euro
VOLVO INTERFACE 88890020
DESCRIPTION
Diagnostic Interface for Volvo trucks – 88890020 (Provided with protective case — 88890180), designed for diagnosis, programming and setting parameters of all trucks, buses and construction machinery brand Volvo. Equipped with Wi-Fi unit for convenient operation. This diagnostic interface replaces the previous the diagnostic adapter Volvo — 9998555 (Volvo Vcads), which worked through COM port. The adapter 88890020 works with programs Navigator, PTT 1.12, PTT 2 and later programs.
PACKAGE LIST
Adapter 88890020
Protective cover 88890180
OBD cable — 88890026
8pin cable — 88890027
USB cable to connect to a computer
Price for dealers: 700 euro
VOLVO VOCOM 88890300
DESCRIPTION
Diagnostic equipment Volvo VOCOM 88890300 is the latest diagnostic systems Volvo, replacing the previous generation adapter Volvo interface 88890020. The main difference between the new adapter VOCOM 88890300 from the previous version is the operation with trucks 2014 and EURO 6 systems. Supported Software — Premium Tech Tool 2.0x
PACKAGE LIST
Diagnostic Interface Vocom 88890300
Cable 8 pin 88890306
Cable USB 88890305
Connector OBD 88890304
Optional:
Adaptor 8pin to Penta
Adaptor 8pin to OBD (Buses v2 — B12)
Adaptor 8pin to EDC for trucks produced before 1995
Adaptor 8pin to Renault DXI (VF627)
Adapter 8pin to 9pin for American trucks
Adapter 8pin to 14pin for Volvo construction machinery
Adapter 8pin for ABS until 1994
Price for dealers: 950 euro
ADBLUE EMULATOR V3
DESCRIPTION
Emulator AdBlue v3 is an advanced version of the previous generation of emulators v2. The main difference from the emulator Adblue 3 — is the possibility to be installed on a faulty SCR system. This Adblue emulator is designed to be used on trucks VOLVO, RENAULT, MAN, DAF, IVECO, SCANIA, MERCEDES, FORD cargo.
Price for dealers: depends from quantity (1 pcs 125euro; 10-20 pcs 119 euro)
ADBLUE EMULATOR V2
DESCRIPTION
V2- emulator device with which you can switch off the SCR system. This emulator can only be installed on a working SCR system.
Price: out of stock
TACHOGRAPH PROGRAMMER (TACHO)
DESCRIPTION
The Tachograph programmer CD400 calibrates and programs all analogue and digital tachographs. Supports IMS (Independent Motion Signal / Second speed signal) parameters on DTCO 2.0, SE5000 Exakt Duo and EFAS-4. Supports 'VDO counter' parameter on DTCO 2.0. The device allows you to define the W figure determination on measuring track or rolling road, K figure measure, can be used as speed simulator for the tachograph when checking the speedometer and odometer.
Kit included:
CD400 — tacho programmer
Cable for  1319
Cable for 13ХХ/1318, V.Root 8400
Cable for EGK-100
Cable for 1324
Cable for V.Root 2400
Cable for CA-RS232-1
Cable for digital tacho
Cable crocodile
Manual
Price for dealers: 750 euro
GPS ONLINE MONITORING SYSTEM ION PRO

DESCRIPTION
The navigational terminal receives information about its location coordinates, current time, speed and movement direction from global positioning system satellites — GPS and GLONASS. If access to satellites is absent (above-ground parkings, ferroconcrete ceilings and other disturbances) the location is determined using the nearest GSM stations. Data gathered from satellites and readings received from connected sensors are transferred to the dedicated server through the GSM network. Using a comfortable web-interface, the system user can monitor location and state of equipment operation parameters using a PC, laptop, mobile phone or data tablet from any place in the world.
Supported interfaces:
Two 1-Wire protocols allow installation of i-button and temperature sensors.
Two RS-485 allow to install different sensors, indicators and additional devices.
CAN protocol receives information directly from trip-computer (fuel level and consummation, axle pressure, engine rotation speed, engine load and other indexes)
SAE (J1708) protocol
In case of absence of the network, all information received by the terminal is recorded to high volume built-in memory (512 Mb). This volume is sufficient for storing 10 million records. In case of cellular communication cut-offs, zero balance of SIM-cards, failures in the operation of data gathering servers navigational terminal iON Pro can store big volumes of information. Data may be transferred to the server during connection reactivation, in case of connection to the PC or through the USB-memory (flash memory). In the course of information unloading to flash memory the protection system with a built-in key is used. There is a unique mechanism of data transfer realized in iON Pro, all the information is transferred to the server by two independent data bursts.
The navigational terminal is highly reliable and fault resistible. There are two slots for SIM-cards that help reduce traffic costs and prevent disconnections. The device is protected against extraneous intervention— all plugs intended for connection of wires, antennae, SIM-cards are concealed under the cover. When the body is opened, the terminal gives a signal to the server. The fact of opening is displayed in the dispatcher program in the form of a message. iON Pro — is an exclusive navigational terminal which is equipped with external and internal GPS- and GSM-antennae and a function of automatic switching between them. Thus if the external antenna is failed, the terminal starts to work automatically. iON Pro has a possibility of remote update of the terminal F/W.
iON Pro is equipped with built-in lithium-polymeric rechargeable battery (Li-Pol) with high capacity —1900 mA/h. It provides the terminal with a possibility to function uninterruptedly for a long period in case of absence of external power supply. The navigation terminal also has three energy saving modes.
Principal Functions of iON Pro:
Determination of  observed object's speed direction and location in real time
Data acquisition from various connected sensors
All data transfer to the server (scheduled or by demand)
Notification of dispatcher on «alarm events» (interruption of power supply, bringing outside aerials out of operation, unsanctioned decapsulation, exceeding of speed mode and etc.). Possibility of SMS and e-mail notification.
Data storing in the non-volatile memory
Driving style analysis
All IRZ equipment has an open protocol and can be integrated into different monitoring systems.
Price for dealers: depends from quantity (1-10 pcs 170 euro)